The Fishing
Can you see your self in the images below?  We certainly can!  Come enjoy a place where time stands still and the angler enjoys becoming part of the ecosystem we share with the fish and all the river's other inhabitants.  Once your geared up and on the stream, the excitement begins as you try to out smart Montana's native trout population!  Your fishing adventure with BTFF will definitely be an escape from the ordinary.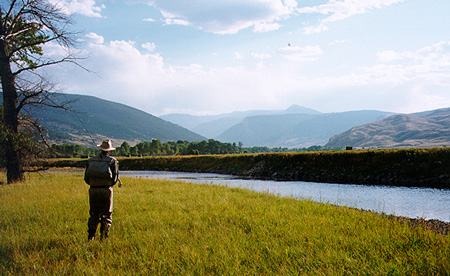 Big Timber Fly Fishing offers you five distinct flyfishing venues with so many options they seem endless. 
    1.Mid-Yellowstone River:
Legendary among flyfishers, this is Americas's largest un-damned natural rvier- Rich in wildlife, diverse and bucolic. 4 Different option within 20 miles of Big Timber. 
2.  Upper Yellowstone River:  Beautiful river valley nestled between two mountains ranges.  This is the famous Paradise Valley.  This is our most requested trip from mid- September to mid-October!  This trip is about 60 miles from Big Timber.
3.
Boulder River
:  Great pocket water with big rapids and some beautiful pools – public or scenic private ranches with rod fees are available.  All venues 3-25 miles from Big Timber.
  4.
Boulder River Float: 
Depending on water flows, floating the Boulder in a comfortable raft can be a great choice.  These floats take you through great pocket water, big rapids and deep pools with stops at hot spots that hold fish.  What a great way to experience the Boulder valley!  4 different options within 25 miles of Big Timber.  
 5. Local Creeks: These are the first areas to clear up after spring runoff and can be a great choice for those looking for a unique type of fishing or for those that make their way to Big Timber Country when conditions are not favorable on the Boulder and Yellowstone unfishable.   Access on local creeks is through scenic private ranches.  
  Scenic Yellowstone/Boulder River Float: Enjoy this option if fishing is not your thing. These trips offer a relaxing journey down the Yellowstone or Boulder Rivers.  Abundant wildlife, beautiful scenery, great company–there is no better way to see the majesty of Big Sky country than from the comfort of your chair as it floats down the river!
A Customized Fly fishing Experience
While there are many appetizing rivers in the area, BTFF recommends the Yellowstone and Boulder for overall appeal. The Yellowstone is fished walk/wade  or floated from a comfortable drift boat/raft, with stops at 'hot' riffles, pools and side channels.
The Boulder is a wader's banquet of pocket water and undercut banks. For the largest portion of the season it is fished walk/wade.  Seasonally, it can be fished from a comfortable raft with stops at 'hot' riffles and pools or by walk/wade.  When the water  is right, the float fishing can be fantastic!
Whether you're an expert or neophyte fly fisher, BTFF custom-tailors our services to accommodate your desires. Instruction if you a want or helpful but 'hands-off' guiding.
Even our stream side picnic feasts can be customized to 
What to Bring:
Rain jacket, hat, and sunscreen, mosquito repellent